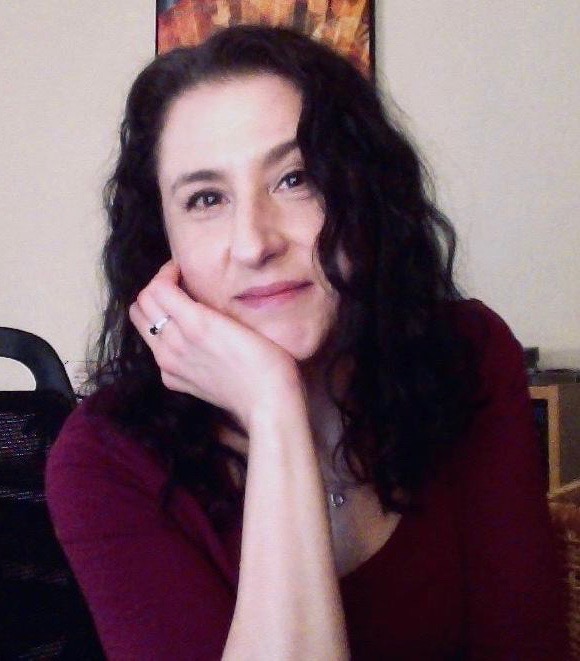 A music journalist who enjoys engaging with celebrities and high school band geeks alike. An award-winning composer whose work for film, new media, and live performance ranges from the stalwartly classical to the downright quirky. A musician and music director who has played in venues ranging from musty church basements to Carnegie Hall. A director, music consultant, arts administrator, music supervisor, and more: Susan Poliniak is doing her darnedest to keep busy in this world while simultaneously keeping the lights on.
With a résumé that includes work for the playwright and screenwriter James Goldman, as well as multi-year tenures as the Educational Director of Cherry Lane Music Publishing (where she spent much of her time with a guitar in her lap or a piano under her fingers) and as the Publicist and President of The Gilbert and Sullivan Society of New York (where she didn't), Susan is well-versed in the budgetary, organizational, and legal challenges faced by arts-based organizations and companies. Just a handful of her areas of expertise include contract and fee negotiations, licensing, copyright and royalty issues, venue searches, fundraising, special events, musical programming, publicity, and even emceeing onstage.
As a music journalist, Susan has over 150 bylines to her credit on a wide variety of subjects, including music education, arts advocacy, fundraising, copyright law, vocal music, choral conducting, recording reviews, musician profiles, and beatboxing, to name just a few. Her liner notes can be found on two Sony Classical releases, including the soundtrack to the Academy Award–winning film Topsy-Turvy. From 2013 to 2019, she was the Editor-in-Chief of NAfME's Teaching Music magazine, for which she had also written for over ten years. In 2009, she served as a panelist for the organization's "Copyrights and Wrongs" Academy as part of Music Education Week in Washington, DC. (Further details on her work in music journalism and publishing may be found here.)
For over a decade, Susan was the Educational Director of Cherry Lane Music Publishing, where she supervised, edited, and played through and/or pored over every last note of hundreds of book, DVD, and audio recording projects—a number of which won accolades, such as Paul Revere Awards from the Music Publishers Association of the United States and a DRUM! Magazine Drummie. While there, she also created a series of jazz arrangements, recorded as a classical guitarist, and worked with artists such as drummer Ralph Johnson (Earth, Wind & Fire), violinist Mark Wood (Transiberian Orchestra), keyboardist Jordan Rudess (Dream Theater), guitarist Carl Verheyen (Supertramp), bassist Chuck Jacobs (Kenny Rogers), drummer Swiss Chris (John Legend), guitarist Buzz Feiten, bassist Mark Epstein, guitarist Joshua Breakstone, master conguero Poncho Sanchez, silent film accompanist and composer Donald Sosin, and many more.
Susan has worked as a music supervisor and consultant on projects for indie filmmaker legend Lisa Hammer, Go Babies, and others. For Thirteen/WNET and the Annenberg Foundation/Annenberg Learner, she served as the Content Consultant for the Music Mentor website interactive for their NETA Award–winning series The Power of Music. In addition to consulting on the repertoire and pedagogical content, she played the recorder on about a hundred tracks of project audio, where she can be heard doing her best to sound like an elementary school student.
Susan's compositional credits include the scores to the independent short films Heartlight (Official Selection of the 2012 New Filmmakers NY Series, Anthology Film Archives) and Vegetables (2006 Festival Internacional de Cortometraje de Bilbao, 2007 New European Film Festival), and the independent feature film All in Theory. She has also created arrangements for Tutti Harps, music for Byte Interactive/Story Worldwide, and sacred pieces that have been performed both in recital and worship. A Writer and Publisher member of ASCAP, she is the recipient of eight ASCAPlus Awards. (More information on her work as a composer, music supervisor, and similar may be found here.)
As a conductor and music director, Susan's credits include the promotional concerts for Sony Classical's Topsy-Turvy soundtrack, work with the Westchester Oratorio Society and New York City's Queer Urban Orchestra, and concerts at New York City's Columbia Artists Management (CAMI) Hall. Her conducting studies include work with Peter Bellino, Rudolph Palmer, and Gary Fagin.
While still an undergraduate, Susan made her professional vocal debut in the chorus of The Pennsylvania Opera Theater. Other performance credits include recitals, concerts, work as a cantor and soloist in churches in Philadelphia and Manhattan, and roles Off-Broadway and at the University of Pennsylvania's Annenberg Center, Philadelphia's Merriam Theater, the International Gilbert & Sullivan Festivals in Berkeley and Philadelphia, CAMI Hall in New York City, and others. Her voice can be heard on recordings by the composers Tony Silva and Jeffrey Freyman. A classical guitarist since childhood, she has also performed as a pianist and orchestral percussionist with groups such as New York City's Big Apple Corps, including in their 2003 concert at Carnegie Hall with the New York City Gay Men's Chorus.
In addition to her work in the worlds of music and music journalism, Susan is a proud SAG-AFTRA actor who specializes in playing musicians. She can be seen scowling in the percussion section of the New York Symphony in Amazon's Mozart in the Jungle, conducting a church congregation about to be slaughtered en masse in NBC's The Blacklist, and playing her sitar in Hulu's The Path, as well as singing and dancing her way through the indie cult film The Sisters Plotz as Miss Butter. (Further details on her stage and screen work may be found here.)
Susan holds a Bachelor's degree in English and Music Theory/Composition from the University of Pennsylvania and a Master's degree in Vocal Performance and Pedagogy from New York University, and has studied composition, orchestration, film scoring, conducting, and jazz piano at the Mannes College of Music. She is a member of Pi Kappa Lambda National Music Honor Society and American MENSA.
She has won on Jeopardy! (once) and lost on NPR's Ask Me Another (twice).